What your "connections" talk about
(25 March 2011)
During my recent talk at the 3rd InnoFORUM on the subject of "Social Magazines" I displayed the following slide: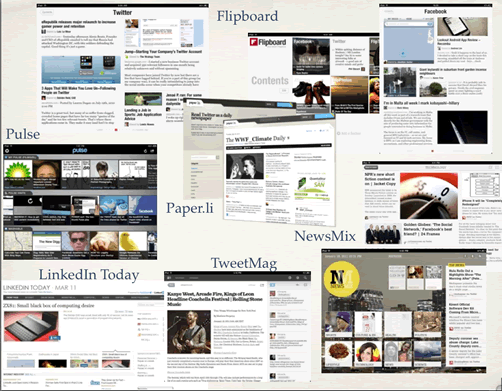 Seen any of these before?
Digital magazines made up of content that your network(s) of friends and colleagues talk about on Twitter, LinkedIn or Facebook? Perhaps ones made up of content sourced from your favourite news sites and blogs?
A formal definition
In trying to communicate about them I have come up with the following definition.
"Social Magazines" are a class of applications (web based or otherwise) that primarily present content discovered due to one's social (connections) network graph, preferred content feeds and/or some measure of popularity by a community.
Looking at it closer, one observes that social magazines exploit the fact that people tend to share content discoveries and news. Not only that, but we also curate and annotate these (perhaps in order to express opinion and/or point out significance and/or context).
As a result social magazines use one's online connections (such as Facebook "friends", Twitter "follows" and lists, favourite blogs' RSS, etc.) in order to drive content selection. Ergo such connections combined with some algorithmic pixie dust play the role of the "magazine's editor".
But why now?
Not so long time ago, I remember that social (network) activity was happening in BBSs (Bulletin Board Systems) where 300/1200 Baud modems were used to express opinion, set up interest groups, flame, discuss, follow stories and make friends. These were some of the first social networking platforms available to the "wide" public.
Akin to Facebook fan pages, Facebook groups and Twitter hashtags, with USENET groups we followed (and still do) topic-specific newsgroups around which virtual communities flourish(ed).
When mailing lists were popular, many used to send (and still do) a daily email with the top discussions summarised. By the way, do you remember when companies used to pay to receive daily news clippings through FAX?
Lets remind ourselves about the "portal wars" for a moment. Portals such as the ones by Compuserve, AOL, Excite and Yahoo were the first Web-based content aggregators much before newspapers and media dinosaurs began to blame Google for their problems. Few years later, people discovered (surprise surprise) that the Web can be social and started publishing "user generated content" -- to which RSS feeds became the de-facto means for multicasting. Of course we immediately wanted to subscribe to all interesting RSS feeds as many do with tweets today. Our unarticulated information crave led to the surfeit of RSS aggregators and to the emergence of "smart RSS readers" (which failed commercially not because of technology but due to business models eg., Findory and Feeds2 were really good filters).
Alas, with the risk of sounding like an old fart I have to remind us that "(much of) the Zen has happened before" so why all the rage now? Well...
Today's context serves social magazines
Lets consider the following:
Information overload is everywhere and is costing us money.
Social networks are pervasive and attract our attention more than ever.
People do share, curate and annotate content on-line and through social networks.
Twitter (which is a not-so-social network) brings a firehose of (newly discovered) information in real-time.
Content aggregation is the norm (from Techmeme to Google Reader and Huffington Post).
Digital tablets such as the iPad are now becoming mainstream, with 85 already announced at the 2011 Consumer Electronics Show and more expected at CTIA 2011.
Newspapers, magazines and old (print) media are in turmoil.
Ubiquitous connectedness is true, with all you can eat mobile data getting cheaper and cheaper.
Mobiles are used for news and "content snacking" more than ever before. In fact this mode of consumption is attracting audiences away from traditional media and TV.
The above (almost truisms) outline only some of today's context in which social magazines have emerged. In fact it is that much of the disruptive technologies necessary to support the demand and implementation of social magazines have crossed the chasm to become adequate or even mainstream. As a result many incumbents are to suffer or completely vanish as the "Innovator's dilemma" teaches us. However, the need has always been there.
So where is the disruption?
To appreciate the degree of disruption caused to old/print media, one has to examine the value-chain of these organisations in order to discover that about 60% of the total cost of delivering dead-tree editions lies with processing and distribution.
All these years most of the cost and very much of the value has been in delivery (from trucks, to the paper format) and not in the content per se.
Then, when we consider that a) advertising budgets are pretty much finite, b) electronic channels through which audiences can be engaged are pretty much infinite and c) textual and video content can be produced on the cheap by anyone, it is not difficult to conclude that we're about to experience what social magazines will do to traditional magazines and newspapers... and it aint pretty.
What's next?
Magazines have always been a kind of filter, where human editors and authors do the hard work of curating, selecting and producing topical content in a pleasant format.
With social magazines we use our social network graph to achieve the same effect.
However, this method breaks down when we "follow" too many or have too many "friends" and they are interested in too many topics. It follows therefore that in the near future we can expect intelligent social magazines to spring up everywhere. These, through the marvels of machine learning present content relevant to one's interest (not just what one's friends talk about). My view is that although few of them exist today, we're still away from what they should ideally be. So I believe that this is one space that much will happen in the coming years.
The future
What happened to music albums with broadband connections , Napster and iTunes, is already happening with (news) content, though in this case it is much more complicated and uncontainable for the incumbents.
This time they don't even have piracy to blame because we can produce the news, critique, analysis and valuable content!
In this future it will be perhaps harder and certainly different for propaganda to spread, but also to be identified. I will be more difficult to find and trust a single source and more difficult to filter out the noise. It will also be more pressing to assess one's reputation, position and discover the antithesis and counterpoints.
So I suggest that human and machine intelligence better collaborate well to help us quench our information crave and discover truth at the same time. As for media revenue models, well that's another story...